I am nowhere near being a makeup snob. Trendy brands, makeup-artists, what celebrities wear what - I just couldn't care less.
That means that when you take a look at my stash, you might find some things that some of you might consider
slightly
unsettling. The sensitive should look away for I am to present to you my favorite trio which might be what most people would consider a bust, incredibly tacky or novelties.
Like for instance, Jessica Simpson's Dessert Treats and Dessert Beauty. Did you test it? Even after you saw the horrible ads with words such as kissable, sexy and tasty? Did you buy it? Did you even, ehum,
like it
?
I did. My favorite 3-in-1 product comes from Dessert Beauty and is a creme blush called Sweet Cheeks. The shade is called Juicy and is a bubblegum-pink that works on my cheekbones, eyelids and lips.
Number two on my beloved list is from a brand that is
an either or
. Either you like it or you think it's a waste of good money. We're talking Maybelline. I have grown fond of their lipsticks but for some odd reason, it always happens when they're discontinued. I'm always too late to get on the train.
Below is Wet shine lipstick in the shade Cherry rain.
Then there's my third product that could be considered a
Oh no, she didn't,
but yes she did and she does like Rimmel. The cheapest of all cheap makeupbrands I have ever come across and I consider it to be quite fun and daring. A sign of me getting old perhaps?
The formulas might not be awardwinning, but every now and then they hit the nail on the head as they did with this product. Metallic stars, it's a roll-on eyeshadow in nifty packaging that means you will never ever have a bag full of eyeshadow. My shade is called Star slam and is a pastel-pink with blue shimmer.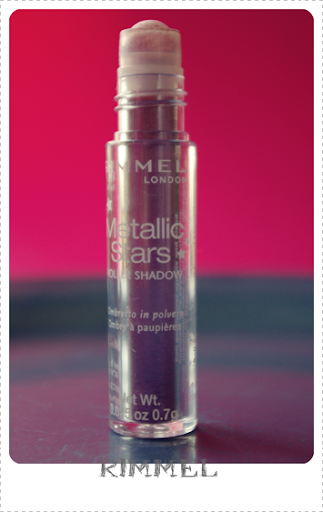 This is what it looks on. The blue shimmer is more direct when applied wet and blended it looks purple.